Do Bike Shops Provide "Essential Services" in the Time of COVID-19?
Why Is It Important to Keep People Riding?
Along with people getting out to ride for their physical and (more importantly these days) mental health, bicycles are key forms of transportation for essential workers to get to their employment. Numbers may be hard to pin down in a time of crisis (no one is out right now with a clipboard counting riders...), but if past ridership data around the Longwood Medical Area in Boston is any indicator, nearly 40% of commuters commute to LMA by bicycle in normal situations. But these are tough times, and just this week we've seen MBTA T ridership down 80% and bus ridership down 50%, and ride sharing companies scale back services, since people are concerned about keeping 6' of social distancing in a crowded bus or train or shared car. We can only assume that the percentage of workers bicycling to work is going up during this statewide shutdown.
We're also seeing reactions from the bike sharing companies to help support this surge of essential workers needing to get around during this shutdown. Bluebikes, the bike share company for Greater Boston, is working with the cities and towns of Boston, Cambridge, Somerville, Brookline, and Everett to offer essential healthcare workers free bikeshare memberships for the next 30 days.
If our essential workers are riding bikes to work, then we need to make sure the infrastructure that allows them to ride safely is kept up during this public crisis. And a big part of that infrastructure are the technicians and mechanics employed to maintain and repair bicycles to keep riders rolling. This is why it's important to keep bike shops designated "essential" during times of crisis.
What's Happening Nationally?
Massachusetts is not alone in lacking clarity for bicycle shops. Four other states of West Virginia, Louisiana, Michigan, and New Mexico do not make the designation for bike repair as "essential." However, as of this writing, states that have ordered stay-at-home declarations that specifically name bike shops or bike repair as "essential" are: New York, Connecticut, California, Ohio, Pennsylvania, Hawaii, Delaware, Maryland, Illinois, Indiana, New Jersey, Oregon, Washington, Wisconsin, and others likely coming.
These executive orders are really important, let me be clear. And we applaud the call to "stay at home" because if people stay home we save lives! However, essential workers who depend on their bikes should be able to get to their jobs safely, and if their bike breaks down and needs repair then they need shops to be open.
What Should Local Bike Shops Do?
First, limit exposure. The top priority is, of course, to protect the general community, shop employees, and customers. If a shop decides to stay open, there needs to be clear, strict protocols for separation and operating procedures to eliminate any physical contact and mitigate the risk of contamination on surfaces. Shops that decide to stay open should also contact their local municipal leaders, their local board of health, and their local police department.
We've noticed shops taking special protocols that are pretty drastic for an industry that thrives on multiple test rides and a vibe of community-club-house. Allstonvelo in Allston and Somervelo in Somerville are limiting customers to only one at a time in the store, and for service they are providing curbside pick-up and drop-off. Urban AdvenTours in Boston has canceled their tours, and only allows one party inside, and only in certain locations in the store. Northampton Bicycle is not allowing customers inside at all, but they'll bring a tube to you outside the shop, and can package an order to leave outside. Landry's Bicycles, with seven stores across MA, is providing drop-off services at all their stores. All these stores sterilize every bike and product sold. And of course, you can shop online on most of their website and still support your local bike shop.
Keep in mind these protocols are changing rapidly, so please check with any location before heading over, and we also suspect many shops will not want to stay open during this public health crisis for the health of their employees and families. If you have other best practices to share or recommend, please let us know by sending us an email at [email protected]. 
Keep On Rollin'!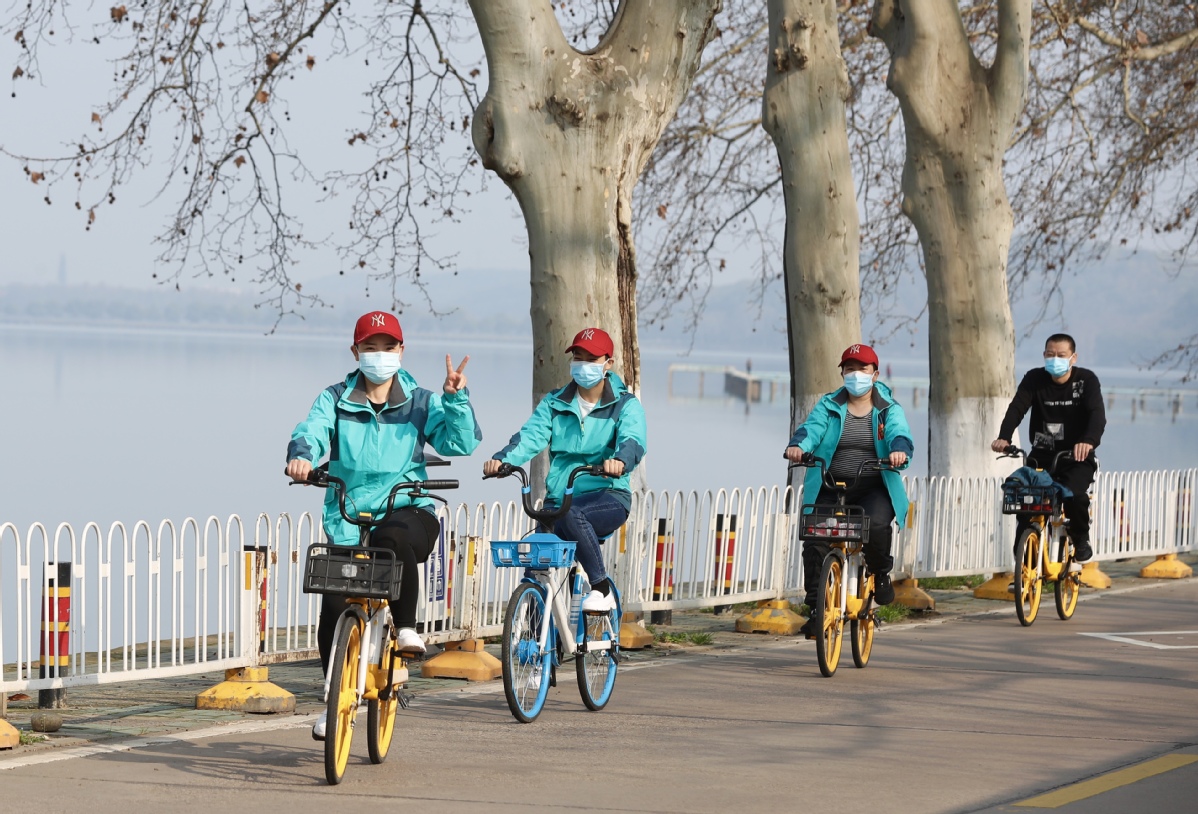 "Wuhan medics ride bikes to relax" - ChinaDaily.com
These are challenging times, and this information is changing day by day – even hour by hour. For the most accurate and up-to-date information on the impacts of Coronavirus on Massachusetts, please visit the Commonwealth's webpage Mass.gov. MassBike will be updating the information related to bicycling in Massachusetts the best we can on our social media pages of Facebook and Twitter, and as information changes on bike shop designation, we will update this blog post accordingly. And please consider donating to MassBike during this tough time, so we can maintain our work to provide advocacy in key areas to keep better bicycling moving throughout Massachusetts.
We do hope you are able to get out and enjoy a bike ride, for your health and sanity. If you do, please remember to give space when around other people, more than 6' ... no more pelotons, and take all necessary precautions to avoid spreading this virus.
In closing, we'll leave you with this inspiring video from Arnold Schwarzenegger dispensing advice on getting through social isolation by going out for some solo cycling – on an electric fatbike no less!